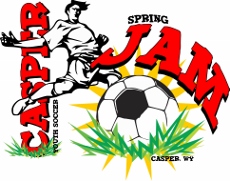 April 13 & 14, 2019

at the North Casper Soccer Complex, Casper, WY

Join us for 2 fun filled day of soccer! 1 day for girls teams and 1 day for boys teams. It is a wonderful way
to start the spring season with the festival style of play. Girls WILL PLAY ON SATURDAY, Boys WILL PLAY ON SUNDAY. Team will play 4 half games. It is a great way to get any team started for the spring season.

Scores will be recorded but no standings or awards.
A Pet Free Environment - for the safety of the participates and pets, please leave your pets at home

No camping allowed at the Soccer Complex

www.visitcasper.com
Event Rules
The JAM will follow the

WSA Policies & Procedures

except as stated in the Event Rules

Team Check In will be on line through your Got Soccer Team account

You will need to submit your Official Roster & Player Cards - Medical forms need to be available at all times at the fields

Copy of Application to Host

The Casper Spring JAM will employ USSF certified referees to officiate the youth games. The event will utilize a 3 man referee crew.

The Casper Soccer Club appreciates the hard work, dedication and professionalism the referees bring to the event. We are greatful to the experienced referees who return to the event every year and appreciate the new upcoming referees. Click Here for the Spring JAM Referee information.