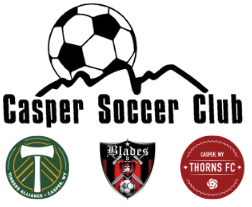 May 30, 2022
The Casper Soccer Club (CSC) Board of Directors has made the decision to implement a nonrefundable, $50 tryout fee to be paid by each player attending tryouts for the 2022/23 season. This fee was discussed at great length and the decision, which was influenced by many factors, was not made lightly.
First, the costs to operate a nonprofit organization such as CSC have escalated a great deal over the last couple of years - as they have in all our businesses and personal lives.
In order to​ foster commitment to the team and continue to provide high-quality coaching, and ​a fun, competitive, learning experience for Blades players, the CSC Board of Directors felt this was the best decision for the club and its members.
A tryout fee is quite common among youth competitive sports organizations. The funds will be utilized not only for the 3-day tryout costs but also the ongoing operating costs and continued success and improvement of the CSC organization and the experience it provides to our youth players.
It is also worth noting that the board has developed a fund-raising opportunity for our players and members to help cover the costs of membership fees, team fees, and uniforms.
More detail will be provided on the fundraising program after tryouts have been completed and before the new season begins in August. We wish all the players the best in the 2022 tryouts and throughout the year.
If you have any questions please feel free to contact CSC president, Luke Carlson at president@caspersoccerclub.com, or reach out to any of the other CSC board members.
Regards,
Casper Soccer Club Board of Directors
Luke Carlson Aaron Caziewell Melissa Childers Mike Cometto
Julie Maiers Jerri Ferguson Becky Strand Amanda Branon
Sean Cometto Rachel McClellan Tamika Martinez Kristin Camp