2023 Fall REC Soccer (Recreational Players)
Soccer Schedule - Fall Rec Soccer
Spring Rec Soccer Registration will be available in January 2024
Soccer activities will be Tuesday and Thursday evenings from approximately 5:45 to 7:00 pm. Specific schedules will be available after registration closes for each season. Tentative start date is Aug 22.
For the safety of your pets and the safety of the soccer players, please leave your pets at home.
Rec League soccer is organized to provide a fun environment for 4 to 14 year olds to play the game of soccer and improve basic skills. The season will be approximately 6 weeks. The preschoolers to 7th grade
players will participate in practice activities and games
.
Teams are selected based on grade in school and school attending as indicated in the registration, not the fee selected. Volunteer coaches provide a fun atmosphere in which players can experience the game of soccer. There is no skill level requirement for this program. Single gender teams will be formed when the number of players/teams support the girl/boy divisions.
Please, Leave your pets at home during the recreational program games and practices.
Preschool -

Lil'Kicker

-U4-U5
Fall Season - $99*
Kindergarten-

Kinders

-U6

Fall season - $99*
1st grade & older-U7 to U14


Fall Season - $99*
Late fee will apply after August 1

$15 late Fee - Wait Listed*
*The fee will be billed in 2 parts - 1st part-WSA affiliation fee of $21+$1.50 Got Sport Software fee. 2nd part-Rec Soccer program fee of $78+ $3 Got Sport software fee.
*IF a school grade division reaches capacity prior to the registration deadline, players will be wait listed. Players will not be moved up or down from their grade division. CSC will make every effort to recruit additional volunteer coaches to add additional teams to league.
Home team will wear White Jersey - Away team will wear Red Jersey
The Red/White Reversible Jersey is available at BushWells
The CSC Academy soccer program is the foundation of our club and is designed to encourage our players to develop a passion for the game of soccer. Younger players explore soccer through small sided games. The program is volunteer based and relies on the generosity of the volunteer parent coach to dedicate a couple hours a week to the young players.
Parent volunteer coaches are required for each team and are supported by our club professionals. If a team does not have a volunteer coach, a parent or a group of parents will be asked to volunteer.
Parents, We need your Help! The Casper Soccer Club Academy Soccer program depends on volunteers to coach.

The parent coach is a vital part of the program. You would be under the guidance of our trained coaching staff.
Each team will need a volunteer parent coach to guide them through the season.
A discount is available for volunteers who complete the volunteer registration requirements.
Contact
recsoccer@caspersoccerclub.com
.
We will play in reasonable weather conditions, please arrive at the fields prepared for weather.
Weather delays, reschedules or cancellations

.

If a cancellation/reschedule is needed due to the weather(or other circumstances), we will make a decisions by 3:30pm the day of the scheduled activities. An email will be sent to everyone through the GotSport management systems if a cancellation/delay is required. Information will also be posted on our website. Be prepared for last minute cancellations due to severe weather changes. Every effort will be made to reschedule the cancelled games. Practices will not be rescheduled. Cancelled games will be reschedule to the next available opening, which may include a Saturday morning.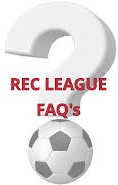 Click

HERE

to view the CSC Handbook:
Guidelines for the Casper Soccer Club Recreational Player & Parent