March 19, 2023 cost of the the Course is $75 Lunch is provided
9am to 2:30pm North Casper Soccer Complex
Must be 13 years old at the time of clinic registration
The USSF Referee course consist of on-line training modules and an in-person training session. The on-line modules must be completed prior to attending the in-person field session on March 19.
The Youth Soccer Game needs Referees. Promote the game you love by becoming a referee. Earn pretty good money for a few hours a week. A great part-time seasonal job earning $10-$25 a game for recreational games. Anyone 13 years or older may become a USSF (United States Soccer Federation) certified referee. Many young referees who start with the Casper Soccer Club will continue on to state and national referee status. Many adults take up refereeing to help the sport and for the enjoyment of the game and to earn extra money. Casper referees have worked USYS Regional Events and National Championship tournaments, High School matches and Collegiate matches.
Referees are one of the 3 major parts to playing a game of Soccer. You need players, a coach and a referee! The CSC competitive programs requires all referees to hold an USSF Grassroots USSF certification. Young referees are typically assigned to the youngest age groups to gain experience and learn the art of refereeing. For the young referee, working the recreational games can be a great paying job. For the more experienced referee, Soccer Tournaments provide more of a challenge and better pay as well. Many coaches, Parents and Players work as referees at the tournaments they attend for the enjoyment of the experience and to help pay for traveling expenses.
Wyoming Referee Program has detailed instruction on how to become a referee and how to re-certify as a referee.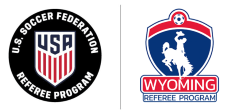 U.S. Soccer's registration window opens each July 1 and closes on June 30 of the following year. The registration is then valid from January 1 through December 31. First time referees that register after July 1 can referee immediately after completion of certification until December 31 of the following calendar year. All other referees that complete the registration and re-certification process are valid only from January 1 to December 31 of the following calendar year.
Please contact the Wyoming State Referee Administrator, if you have any questions about becoming a referee or if you have any comments or concerns about Refereeing or Referees in General.
Roger Brown -SYRA/SRA sra@wyomingsoccer.com

A Referee is an independent contractor, not an employee of CSC. As such, the referee shall be responsible for paying all income, FICA and gross receipts taxes that may accrue as a result of referee services and will receive a 1099 if applicable. Personal information may be collected in reference to independent contractor status. Also the Referee shall provide his or her own equipment and uniforms.