The CSGKA Summer Goalkeeping Camp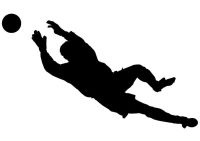 Goalkeeper Camp: July 27-31, 2020
2 daily sessions - 9am to 11am & 1pm to 3pm
232.03 per player (register by June 12)

- includes goalkeeper shirt and 1 pair of goalie gloves
Registration not yet available for 2020 Goalkeeper Camp
257.78 per player (register by July 10)
For more than 20 years, CSGKA has trained goalkeepers in the most important position. 2019 was no exception, conducting amazing camps with 100 + players, ranging from rec to seasoned college players. The feedback is overwhelmingly positive. The success players have attained through our teaching is remarkable. Professional Players of the Year, players earning roster spots on the United States National Team, claiming College National Championships, winning countless USYSA State, Regional, and National Club Championships are proof positive CSGKA can teach players the skills need-ed to reach any goal they choose to work toward. The fact that so many have entered into coaching careers themselves is testament to the love of the game and the willingness to give back instilled.
What makes CSGKA Soccer Training Camp experience unique?
EXPERIENCE

…Our staff not only played the position, but teaches the position at coaching clinics across the country. Coach Maples, has 25+ years of coaching experience maintaining a philosophy that-player development is more important than results. This is the foundation of a belief that when coaches do the right things in training, results will come.


TRAINING

…Players train in a difficult "No Frills" environment. CSGKA emphasizes technical, tactical, physical and mental areas crucial to being successful. Athletes are held to a higher standard, having expectations placed upon them in challenging environments geared to teaching the responsibilities on and off the field, held accountable for their actions.
Can we make every player a great soccer play-er?
No. But hopefully we can make every player a better, more productive and responsible person.


EDUCATION

…We invite and encourage coaches/parents of any level to attend one, a few or all camp sessions to learn. Our goal is to grow the soccer community through education. Education is crucial to getting proper training so players can carry on long after camp has ended.