The Casper Fall Classic has been serving the soccer community for over 25 years.
Join us on September 8, 9 & 10, 2023
8U to 19U Girls and Boys teams are eligible to participate in the Fall Classic. Registration is Closed.
8U (4v4). . . . . . . . . . $375*/team

10U (7v7). . . . . . . . . $570*/team

12U (9v9). . . . . . . . . $675*/team

14U/15U (11v11) . . . $725*/team

16U/18U (11v11) . . . $750*/team

*all teams will be required to pay the GotSport software cost of $20 per team.
The Tournament Committee reserves the right to combine age groups or divisions as necessary and to place teams in brackets for the betterment of the event. The tournament is not responsible for incorrect team information. Once the team is accepted into the tournament, the tournament fee is nonrefundable.
The Casper Fall Classic is a WSA/USYS non-restricted sanctioned tournament.
Camping within city limits is prohibited except in designated camping areas. Camping is not available at the North Casper Soccer Complex or Softball fields.
Pets are not permitted at the complex during the tournament except for service animals.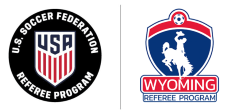 Referee are needed for Tournaments
Lunch, drinks, snack provided -
Limit Lodging available -
Bonus pay available
Referee Mentoring will be available during the Fall Classic
The tournament will contract a USSF certified referee assignor. USSF certified referees will be contracted for the duration of the event.
The event will utilize a 3-man referee crew were appropriate.
USSF Referee rules, policies and procedures will be followed. In order to comply with the Laws of the Game, all games will employ the diagonal system of control and be assigned according to the following order of preference:
One registered referee and two registered assistant referees

One registered referee and one registered assistant referee and one unregistered club linesperson*

One registered referee and two unregistered club linespersons*

One registered referee if one registered referee is appropriate for the level(age) of competition or no unregistered club linespersons* are available
The Casper Soccer Club appreciates the hard work, dedication and professionalism the referees bring to the event. We are thankful to the experienced referees who return to the event every year and appreciate the new upcoming referees.