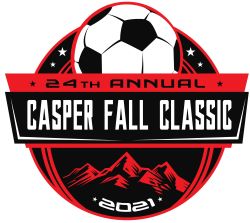 The Casper Fall Classic has been serving the soccer community for 24 years. Come join us this fall to participate in the Casper Fall Classic. Registration is available here. Deadline August 20th.
8U to 19U Girls and Boys teams are eligible to participate. (USYS Restricted) App To Host

$230* U8 - Festival Style 4v4

$495* U9/10 -7v7

$535* U11/12 - 9v9

$585* U13/14/15 - 11v11


$605* U16/19 - 11v11
*A referee bond will be iin addition to the registration. Indicate a referee who is willing to referee at least 2 games for the Event. $50 for 8U teams, $100 for 10U and older teams.

The Tournament Committee reserves the right to combine age groups or divisions as necessary and to place teams in brackets for the betterment of the event. The tournament is not responsible for incorrect team information. Once the team is accepted into the tournament, the tournament fee is nonrefundable.
Camping within city limits is prohibited except in designated camping areas. Camping is not available at the North Casper Soccer Complex.
Pets are not permitted at the soccer complex during the tournament except for service animals.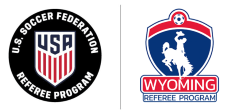 Referee are needed for Tournaments
If you are interested in becoming a referee
contact SRA@wyomin
gsoccer.com
Competitive Games ages U8 to 19U
Lunch, drinks, snack provided