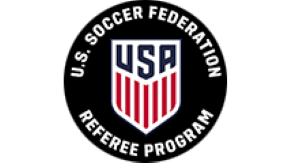 Wyoming State Cup Championships Referee Information
Coming May 27,28, & 29, 2023 - North Casper Soccer Complex, Casper, WY
Click here to Referee for Wyoming Cup

The Casper Soccer Club is proud to be hosting the 2023 Wyoming State Cup Championships. The CSC appreciates the hard work, dedication and professionalism the referees bring to the event. Thank you to the experienced referees who return to the event every year and we appreciate the new upcoming referees.
Referees must hold a current 2023 USSF certification to work the Wyoming State Cup. All games will be played in accordance to FIFA with adjustments for small sided games. Referees are excepted to be properly equipped for the WSA Wyoming State Cup Championships.
| | | |
| --- | --- | --- |
| Age Division | Center Referee | Assistant Referee |
| 15U/14U | $50 | $45 |
| 12U | $40 | $25 |
| 10U Center only* | $40 | NA |
| 10U Center w/AR's | $35 | $18 |
| 8U Center only | $30 | NA |
Additional benefits for the referees:
Lodging available for Referees-Double occupancy - 8 game min

Breakfast snacks and lunch provided

Beverages, coffee and snacks provided


Bonus for refereeing eight (8) or more games

Event coin for each referee


Referee Pay available before leaving the event



All referee assignments will be scheduled through the Got Soccer software for the event. Bonus pay for working eight or more games TBD.
The Wyoming State Cup Championships will employ USSF certified referees to officiate the youth games. The event will utilize a 3 man referee crew and will employ the diagonal system of control and be assigned according to the following order of preference:
One registered referee and two registered assistant referees

One registered referee and one registered assistant referee and one unregistered club linesperson*

One registered referee and two unregistered club linespersons*

One registered referee if one registered referee is appropriate for the level(age) of competition or no unregistered club linespersons* are available
A Club linesperson is selected from the spectators and can only indicate when the ball is in or out of bounds. No fouls or offside violations will be called by a club linesperson.
*Expect the 10U Games to be Center Referee only.